Mark writes songs that could be described as "slices of life" through the eyes of the working man & Rural America. Topics of tornados, disastrous floods, and the simple life are mixed in with the neighborhood pot dealer and a tractor love song. Real topics, real songs. Mark's new release is worth checking out. - Dave Ludwig, KSYM 2021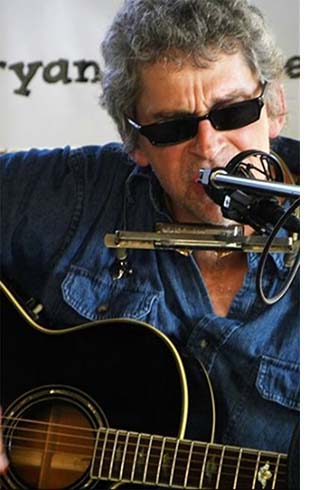 Raised in the corn fields of the northern plains, Mark soaked up all the Dylan, Young, AC/DC, Petty, Pistols he could find from the left side of the dial and other various sources. After playing in several rock bands in his younger years, Mark spent a good bit of time writing songs for acoustic performances, often as a solo or duo, where he also thrived. In more recent years, Mark has returned to playing more band shows than solo, with Adrian Schoolar on electric guitar, David Goldsby on bass, and Dennis Merritt on drums. In this format, consciously or not, the driving rock beats of his youth have steered his songwriting for a band per se. This roots rock band format also greatly influenced the way this album was produce: live on the floor for the most part.
As with all of Mark's CDs, there is no sameness to the tracks, but they all reflect a common life thread that connects. The songs were written over the course of 3 to 4 years, starting with "Big Water" after a major flood event in Central Texas. In fact, the art work on the CD is a picture of the flood at his property at the time: school buses floating by. The entire album was recorded there, upstairs in his two-story home. There are some dark and light songs on this album, cultural observations, songs about tornados, floods, pestilence, and tractors.
Although it's a bit more rocking then some of his previous albums, it still retains the warmth and Mark's commitment to the art of songwriting is evident. These songs, real and honest, capture the American Spirit. Hearty musicianship with an instantly appealing roots music approach only adds to the experience. Standout tracks include "Only Avenue", "Nowhere to Go", and "9N".
Play this record now! Mark Jungers is one of the finest Americana songwriters that we have & hit our radar at KNON in 2001 with his first record. Ever since then he has put out one wonderful record after another. This one too. We play the heck out of him. You won't be disappointed.- Mark Mundy, KNON
In life and in art, Mark Jungers is a reality dealer. A trailblazing Americana singer, songwriter and musician with By God sod busting roots, Jungers lays out the perils, the pitfalls and the pleasures of life in equal measure. And, accompanied by a like-minded music-making crew, Jungers uses a mixture of country, folk, rock and more to get that reality across with soul, conviction and a solid backbeat. - Jim Beal, Jr.
Freelance music journalist
KSYM Third Coast Music Network DJ

The Texas highways are littered with the discarded Texan songwriters who failed the authenticity sniff test. But veteran singer Mark Jungers has survived, writing songs that fit the here and now of rural America without sounding cheap or pandering." - Calvin Powers
TaprootRadio.com
December 15th, 2011